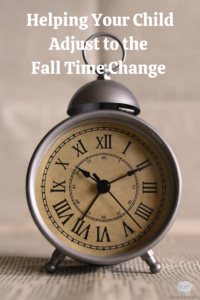 It's that time of the year where it gets darker earlier and is often still dark when we wake up. In turn, we gain another hour of glorious sleep. And while this can be great news for many, the shift in moving the clock back an hour can bring chaos to many households with young children.
Here are some tips to help create a smooth transition to the shift in time.
Reset their systems – exposing them to the sun every morning helps to reset their circadian rhythms for the day.
Stick to your routine – children do best when they know what's ahead of them. Sticking to the same sequence of events will allow them to feel secure through the shift in time.
Be flexible – the shift in time can be tough for all of us. Allowing children to nap or go to bed early (even when you are trying to extend their wake times), can make all the difference in how they adjust to the time change
Be consistent – I say this often, consistency is going to be your BEST friend in anything having to do with sleep but also around children. Being consistent in our response and routine is very important.
But even with those tips above, we want to also account for a child's overall disposition. For some children, the time change isn't a big deal. For those children that are much more sensitive to the shifts in time, routine, etc, we want to offer them a bit more flexibility.
Do Nothing Approach
For the children who are more easy going, simply shifting their schedules to the new time change is fine with minimal or no disruption.
But for most children, it's important to help ease them into the new time change. You can do that in several different ways.
Gradually Adjust the Time
For those children who are a bit more sensitive, shifting their schedule a week before can be extremely helpful for them.
The easiest way to help your child adjust to the time change is by gradually moving their naps and bedtime by 15 mins later each day. This way gives you 4 days to make the shift to the "new" time.
For example:
Your baby naps at 9:00 am and 1:00 pm each day and goes down at night around 6:30 pm. Begin shifting your child's schedule by 15 mins on Wednesday morning. Instead of putting your baby down at 9:00 am and 1:00 pm, you would put them down at 9:15 am and 1:15 pm. Each day, adjusting their schedule by 15 mins.
Making these gradual shifts in their schedule will ensure that they have time to adjust to the new time change.
Address After the Fact
If you miss the opportunity to gradually shift your child's schedule prior to the time change, don't worry. You can make the adjustments post time change.
Making the corrections after allows you to see what your child is struggling with and be more direct in your approach.
What have you found to be most helpful to your children in adjusting to the time change?