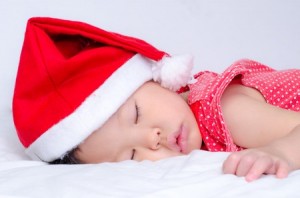 The Holidays are almost upon us. Each year it probably feels as if it sneaks up earlier and earlier .
Especially true if there is a new "little one" in the house. Really without sleep everything is amplified!
However being prepared helps one enjoy and "get through" the season for sure.
I would like to take a moment to share a few sleep travel tips that can really help. It's not an easy thing to travel with your baby, but it can be done hopefully with a bit more sanity.
Baby Sleep Holiday Travel Tips:
1. Preparation
It's not always easy to be prepared ahead of time with a little one that demands your attention. However try to take a moment – think about what can be done before your trip. Write it down or at least jot down quick notes to remember what you would like to get done.
Take a deep breath,  it's important not to fret. Just focus on the important stuff that needs to be done so you can get on the road. Having your diaper bag & "baby" in the car for your trip is more important than the house being clean. Try to use any downtime (funny right?!!) to accomplish what you can before travel day – but just what is essential.
2. Discuss Routine
It may seem like an inconvenience or uncomfortable to let your hosts know about your baby sleep routine, but this can really make a difference. Letting others know how the routine works will save stress all the way around. Don't feel like you have to explain why you have this routine. It's just about giving a heads up in order to plan any activities. A tired baby (and parents) makes for no fun.
3. Activities Created Around a Rested Child
If your baby is wide awake early then that is a great time to get things done. Your baby is rested (we hope) and the day can begin. Perhaps there is something as a family that can be done together early or at least getting ready for the day's activities can begin.
If baby sleep didn't happen so well and your child is cranky or just not into getting moving early then being open to making adjustments is important. Flexibility can sometimes be key. Don't feel as if you can't change the schedule for the day (or however long your holiday travel takes).
4. Try Out The New Toys
When purchasing new items for baby's big travel day it is important to try out any new products before you adventure out. An example could be setting up the new "portable bed" at home. Give it a whirl and iron out any kinks before using the new item. This could really be an advantage before expecting your baby to be ok with the changes he or she will have in a different environment.
Baby sleep is not easy in any normal day routine at home. It's even harder while traveling. Hopefully these 4 holiday travel tips help with your future plans.
Please comment about the travel tips you use with your little ones 🙂